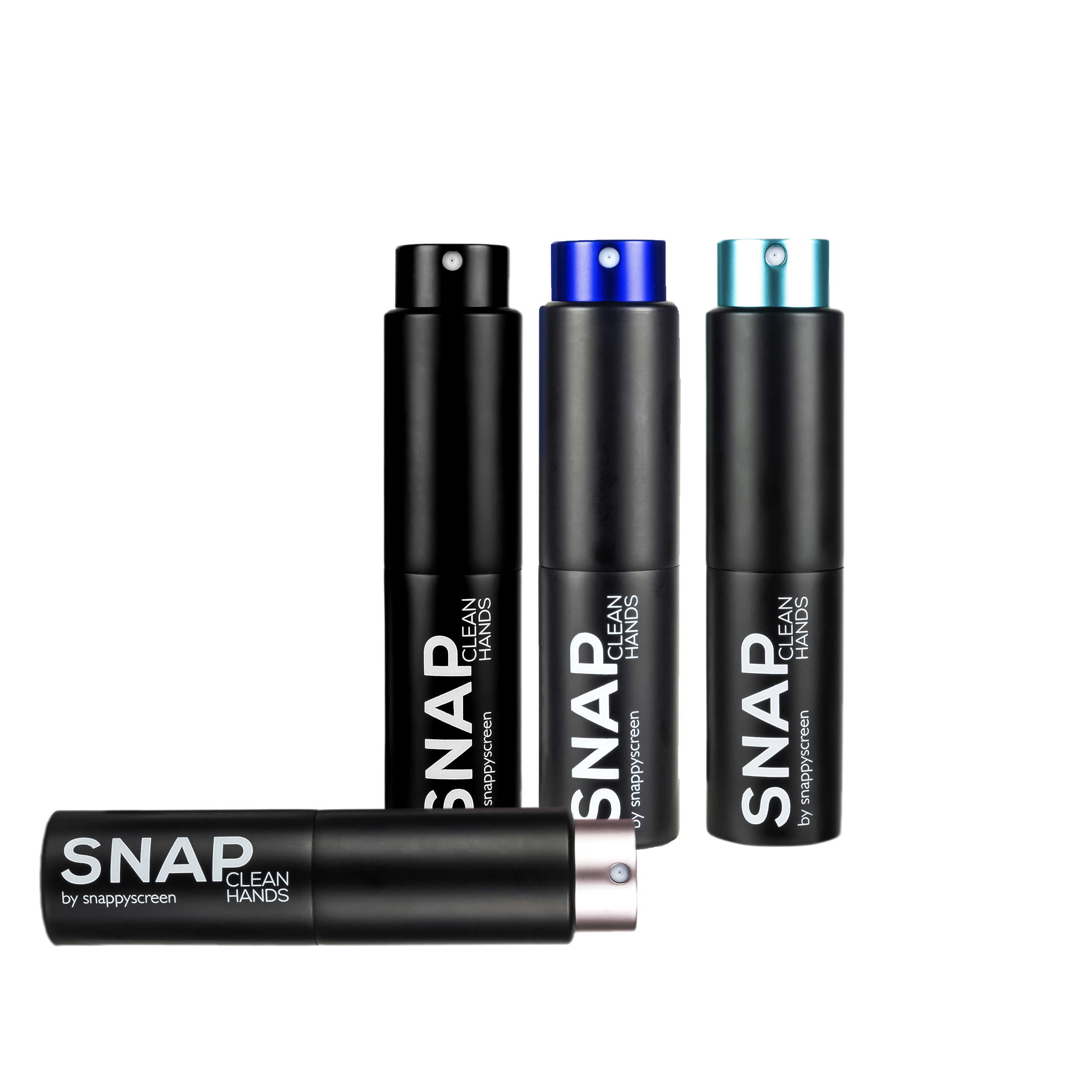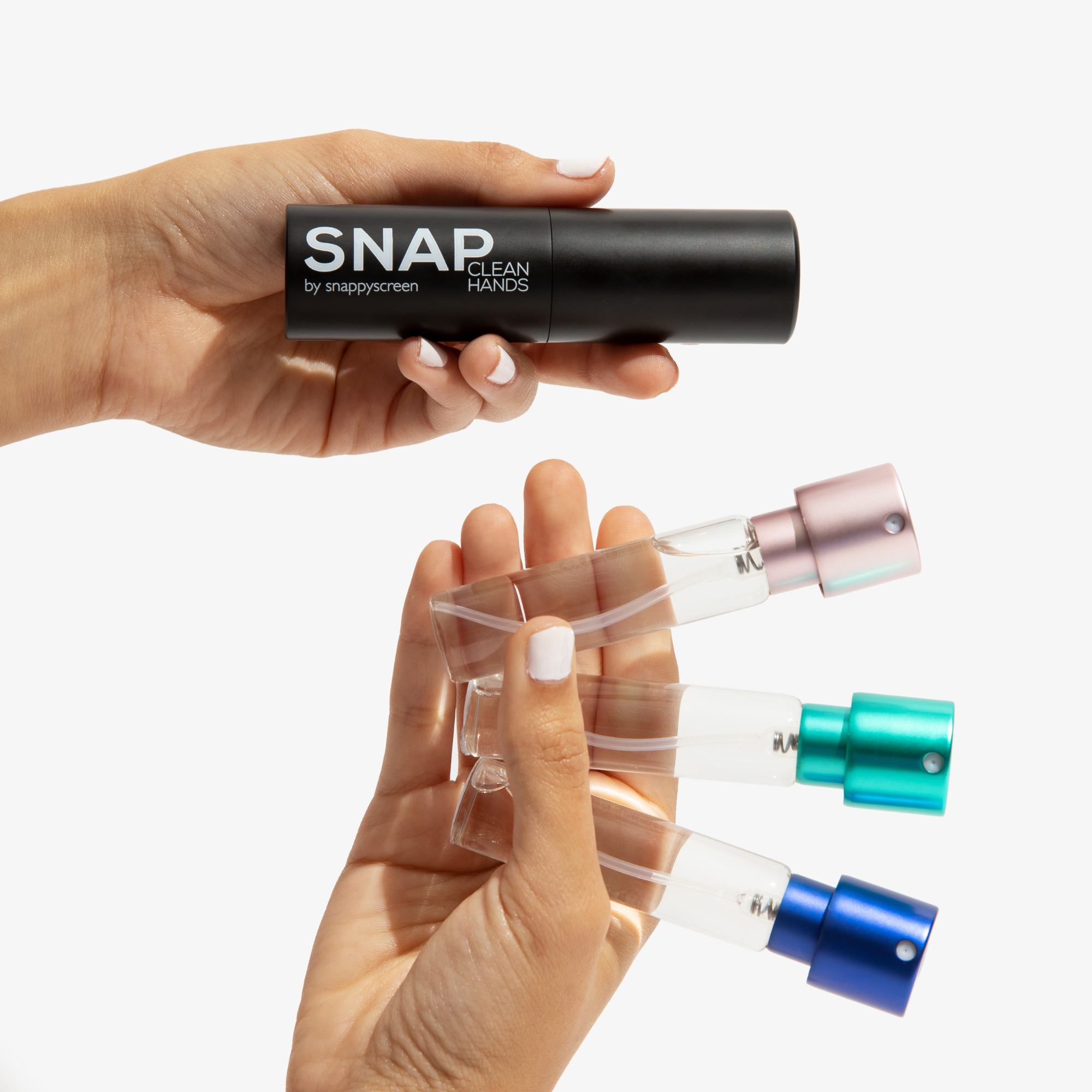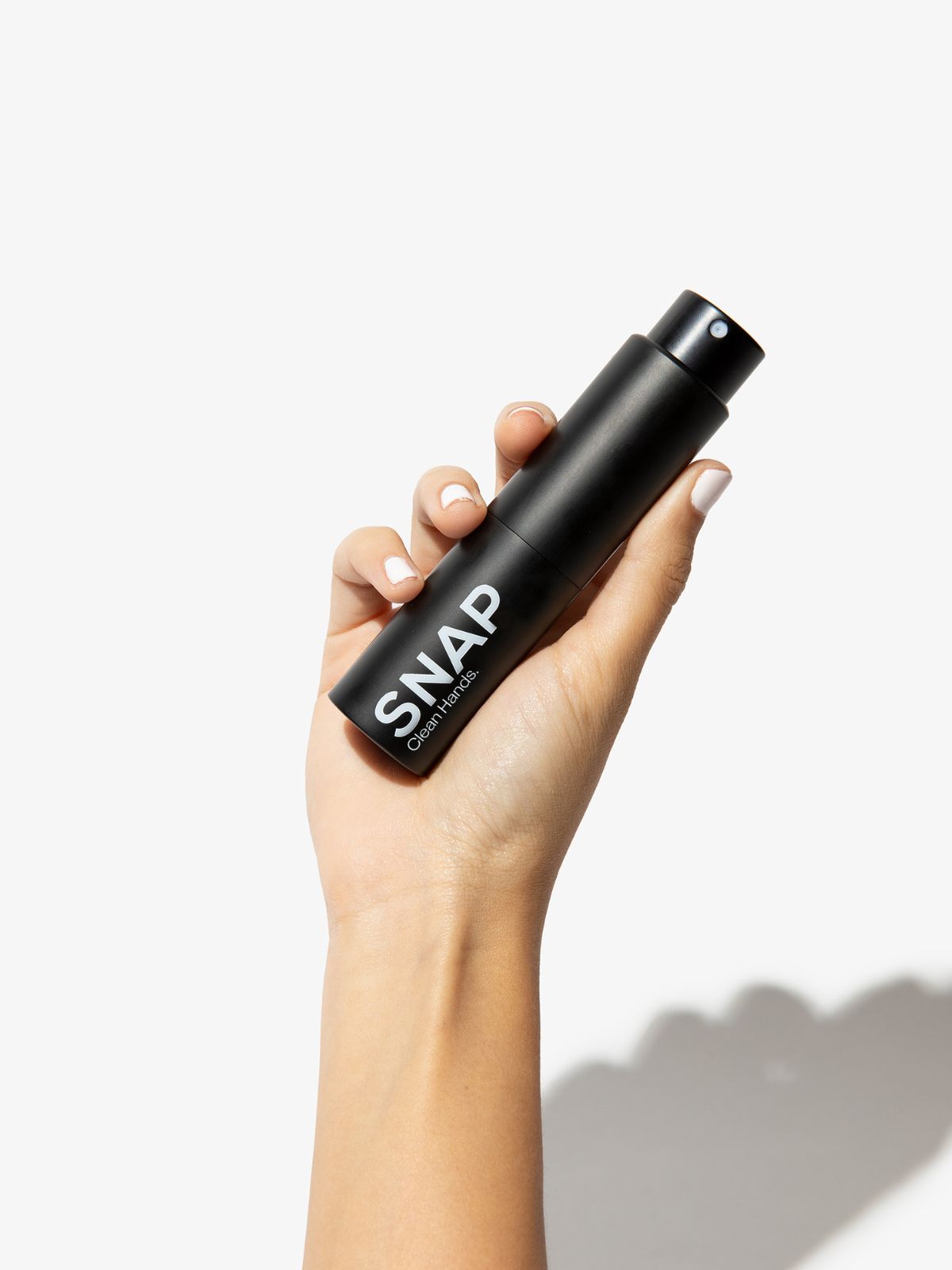 Stocking Stuffer Set
$48.00
Travel Hand Sanitizer
4 applicators
300+ sprays per cartridge
Take your SNAP applicator with you whenever, wherever you go! With the easy to use system, you can switch out your fragrance and snap your new cartridge in for a compact, travel-ready, no-spill hand sanitizing experience!
Not sure which fragrance will be your favorite? Try one of these four-applicator sets.
A $60 value, yours for only $48!
4 applicators in your choice of fragrance(s). Not sure which fragrance is your favorite? Why choose?
Active Ingredient: SD Alcohol 40 75% (Antimicrobial)
Inactive Ingredients: Aloe Barbadensis Leaf Juice, Caprylyl Glycol, Fragrance, Glycerin, Phenoxyethanol, Polysorbate-20, Purified Water, Tocopheryl Acetate
Signature Scent: The scent of fresh eucalyptus & crisp mint will invoke maximum stress relief by stimulating your body & mind.
Escape to the Sea: With notes of coconut & sea salt you will leave the challenges of the week behind! Take in the sound of the waves crashing on the shore and feel the sand beneath your feet.
Rooftop Garden Champagne: With notes of white champagne flowers, fresh orange peel, & wild berries this best-selling fragrance will have you rushing to your favorite rooftop bar and clinking glasses with friends.
Day at the Spa: The fragrant smell of cucumber, honey, & sweet aromatherapies are sure to remind you of the ultimate relaxation you experience at your favorite spa.
MAXIMUM PROTECTION: 75% Alcohol (15% above CDC requirements)
FEELS LIKE 5-STARS: Infused with 3 moisturizers (Aloe Vera, Vitamin E & Glycerin)
GREAT STOCKING STUFFER: SNAP is great for any on-the-go experience... whether it's a gym bag, purse, car, or travel, everyone in your life needs a SNAP applicator!
Use enough product in your palm to cover hands and rub hands together briskly until dry.
Children under 6 years of age should be supervised when using this product.
Women and Family Owned
SNAP Wellness is an innovative wellness company founded by two sisters, Kristen and Katelyn. Kristen and Katelyn are known for their first SnappyScreen invention, a touchless sunscreen booth for luxury hotels that applies your sunscreen evenly in 10 seconds. With an expertise in spray technology and passion for clean formulas, they expanded their product line with SNAP - Clean Hands. From sunscreen to sanitizer… these sisters have you covered!
Best prduct and Best customer service
i finally got to try it and really like all the scent. The customer service Josh B. is very attentive and took care of my problem with my shipment. My family enjoyed using the hand sanitizer and even my kids used it a lot. Thank you for creating this wonderful product. It helps keep everyone in the house safe and healthy.
Great Product in a Clever Container
Love these hand sanitizers. The original scent smells like a really good men's cologne
A variety of heaven scents
I love this "Try Them All" set. I get to pick and choose a scent according to my mood (which is always positive). I can also share with my friends and I always have a different fragrance with me whenever I go out. I get multiple comments from many people. I love sharing with friends, family and even strangers. I am an ambassador for SnappyScreen!